There are two parts to this – depending on how much of a pro you are in the kitchen.
Gareth Ward runs Ynyshir Restaurant and Rooms in Powys, named Best Restaurant in Wales at the National Restaurant Awards 2018 – so it's fair to say, he knows his way around cooking Welsh lamb.
In this recipe, the lamb is served in two parts: Rib then loin. For the lamb rib portion, you'll need a water bath. But if you haven't got the kit, skip the rib and head straight for the lamb loin portion of the recipe, using the glaze from part one.
Ingredients:
(Serves 4)
Ask your butcher for two lamb bellies with the rib bones still attached.
Salt to season
PART ONE: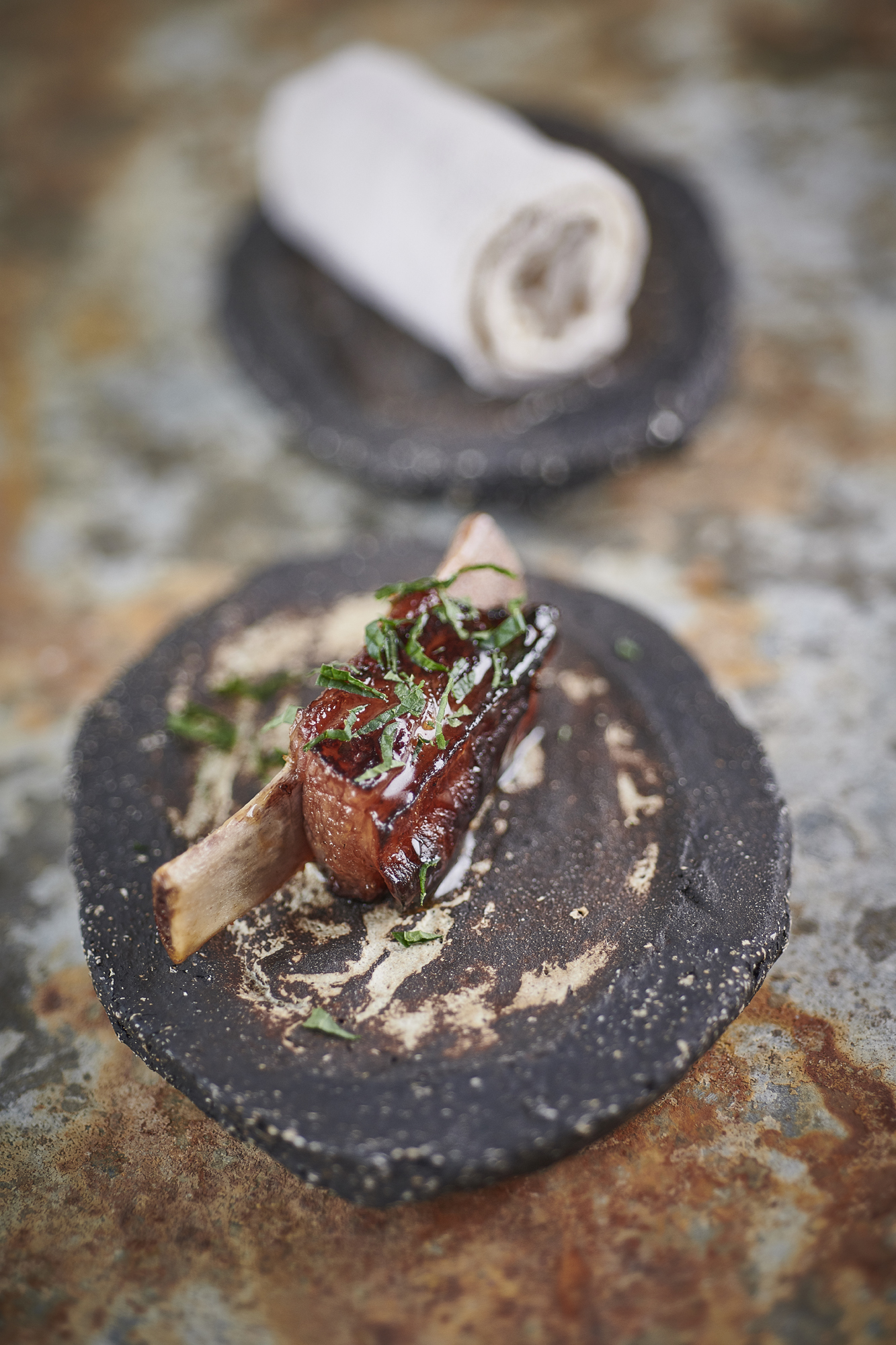 For the lamb rib:
1. Lightly season both sides of the lamb bellies.
2. Vacuum tightly in a bag and cook at 68°C in a water bath for 24 hours or until bones can be removed easily. Take out of bath and press in the fridge for 24 hours.
3. Portion the belly into individual ribs and trim to expose the bone on one side so it can be picked up and eaten.
For the glaze:
100ml soya sauce
100ml white wine vinegar
Big sprig of fresh mint
100g brown sugar
Reduce all the ingredients together slowly in a pan until thick.
To serve:

1. Cook the individual ribs in a pan on all sides until golden brown and crispy, and pop into a hot BBQ to finish.
2. Brush on the glaze until nice and sticky and finish with fresh chopped mint.
PART TWO: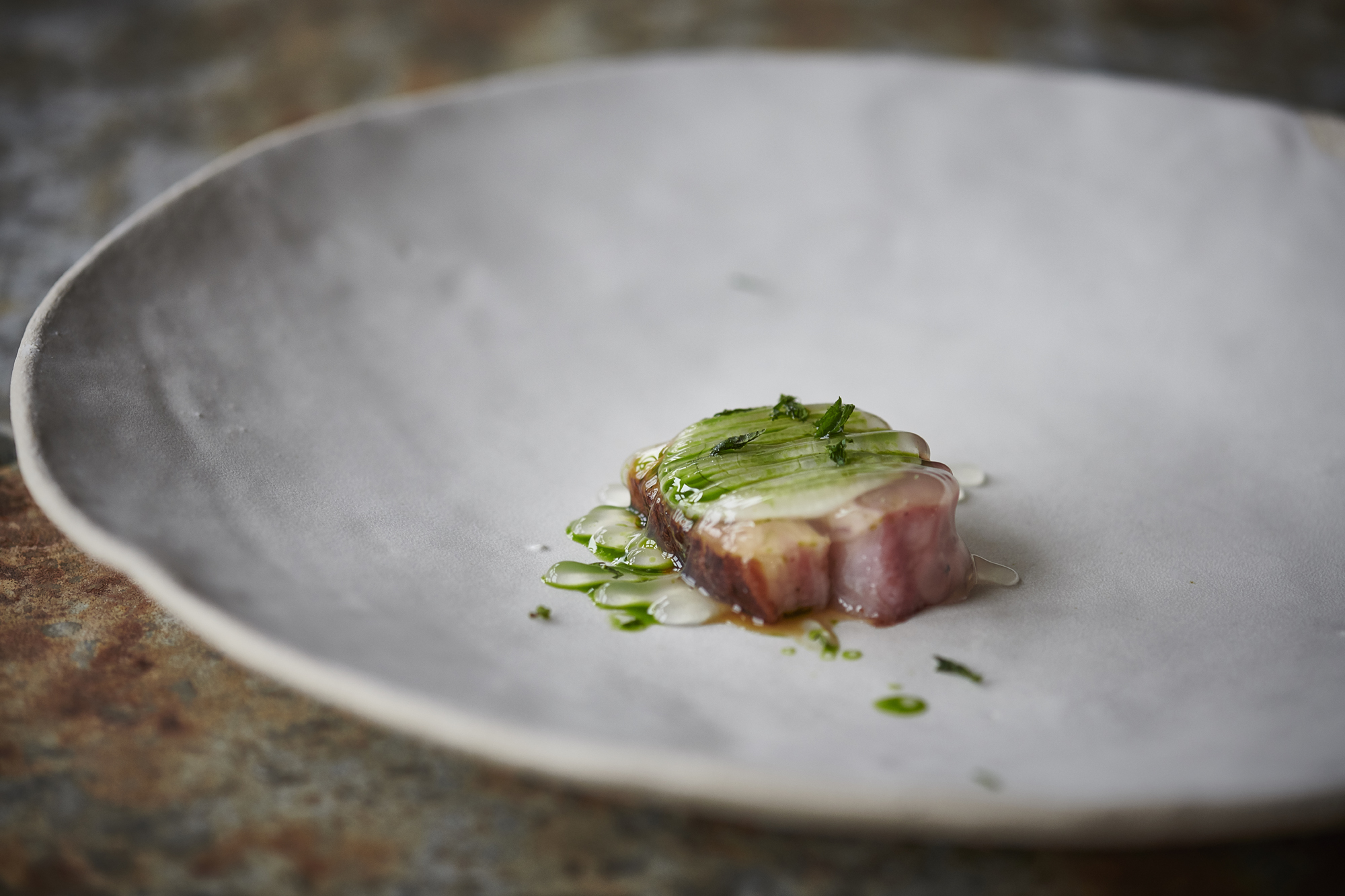 For the loin:
1 lamb loin with the fat still attached
1 white skin onion, peeled down to the nice centre piece
Bunch of fresh mint
500ml Mint kombucha
Salt
Butter
3g agar jelly (available in large supermarkets)
Glaze from rib recipe (see previous instructions)
Method:
1. Score the fat on the lamb and season with salt. In a pan, cook slowly on the fat side for about five minutes on a medium heat. Flip onto the meat side and add a knob of butter and leave to rest until cooked to medium.
2. Put 250ml of mint kombucha into a pan. Add 3g of agar and bring to the boil. Leave to set in the fridge. Blend once set hard with the remaining mint kombucha and pass.
3. To finish the dish, take four slices of lamb and brush with the glaze from the ribs. Very thinly slice the onion (with a mandolin) over the top of the lamb. Spoon over the kombucha agar mixture and chop over some fresh mint.
Recipe courtesy of Gareth Ward, chef owner at Ynyshir. Visit ynyshir.co.uk or call 01654 781 209 to book: 19 course lunch or dinner is £140pp. Address: Ynyshir Restaurant and Rooms, Eglwys Fach, Machynlleth, Powys SY20 8TA.